Reilly Family of Westhorpe Hall in Suffolk
Mary Tudor third daughter of Henry VII became Queen of France on her marriage in 1514  to  the  aged  Louis  XII,  he  died  shortly afterwards and she married in 1517  Charles  Brandon  Duke of Suffolk and they lived at Westhorpe Hall,  Westhorpe, Suffolk where she died in 1533.  She  was  interred  in  the Monastery of  Bury  St. Edmunds and removed  into  St.Mary's  Church after the dissolution of the Abbey.
 William Barrow Esq was the owner of Westhorpe in the time of  Queen Elizabeth.  He  married  Frances  daughter  of  Robert Wingfield, of Letheringham, but by  her  had  no  issue.  His  second wife Elizabeth, daughter of Thos.Daundy of Cretingham,  lived there until her death in 1634. Their only surviving son Maurice Barrow became Lord of the Manor of Westhorpe  on  his father's death  24 December 1613,  but was living with  his wife Mary at Barningham in 1655.
In Westhorp church there is a momunent to an earlier Barrow, William, sits at the breakfast table with his two concubines, while the servants look on. He's reading prayers with a Laudian air, facing across to his two wives Elizabeth and Frances (he married them separately, of course). They wear amusing hats, as if participating in a party game that has long-since been lost to us. Their children watch.
<![if !vml]>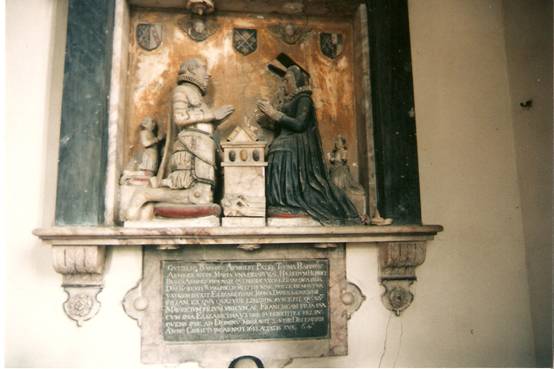 <![endif]>
Maurice Barrow died 11 May 1666 and lies buried at Westhorpe, at the east end  of  the  mortuary  chapel,  in  a  sumptuous monument, with an effigy and one armorial shield having on it the arms of Barrow, impaling Smith.   There is a  long  Latin inscription with the following in addition:
       "This monument was designed and  begun  by  the  above  named
         Maurice Shelton Esq. but being suddenly snatched out of  this
         world. It was after his death finished by the care and at the
         charge of Henry Shelton Esq his brother and heiric male  that
         truly the Will of the said Maurice Barrow  might  be  piously
         performed and his memory perpetrated to all posterite."
<![if !vml]>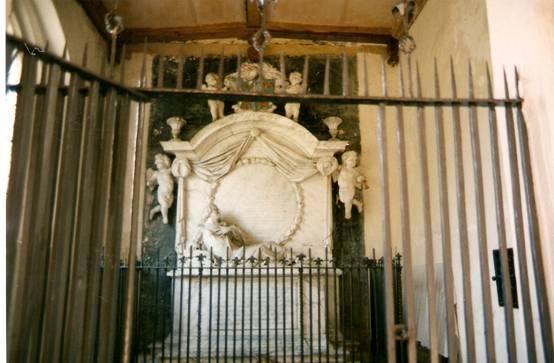 <![endif]>
Maurice and Mary Barrow's only daughter  Mary  died  and  was  buried at Westhorpe 22 July 1615, and so on his death he left Westhorpe,  Barningham,  Weston  and  Roydon  to  the   above  mentioned Maurice Shelton his cousin. This Maurice died  1676  and  was suceeded by his brother Henry, who on his death  in  1690 passed the property to  his  son, another  Maurice,  who  was  baptised  2 October 1683 at Barningham.  He appears in the list of  pupils at Bury Free Grammer  School  as  follows:  "Maurice  Shelton"   elder son of Henry Shelton of Barningham, Suffolk, was  eight years at Bury under Leeds (1663-1707).  He  was  admitted  to Cauis College  May 1701 aged 18,  but did not graduate.
His brother Henry born c.1686 went  into  the  army  and  his death is recorded in the Westhorpe register Oct 7 1680: Major Shelton died at Mr.Sucklin's at Norwich and was  buried  at Shelton October ye 9th 1680
Maurice  Shelton  married  27  January  1703-4  at   Benhall, Suffolk, Arabella, fourth  daughter  of  Sir  John  Duke,  of  Benhall, Bart, MP for Orford, she  died  and  was  buried  at Shelton, 5th December 1716.   They had several children most  of whom died young, and were buried at Benhall,  the  parish  in which the Duke family lived.   Arabella Shelton  their  only  surviving child was baptised 29 November 1709.
Maurice married again 15th July 1724  Margaret,  daughter  of  the Rev. John Randall, who was headmaster of Bury  Grammer  School  1707-1715, she died 23 October 1727 aged  31.  Dr.Randall devotes 22 lines to Maurice and his deceased  brother  Henry and says he passed his time  in  Palladiun  Studies.  Maurice  published in 1720 "An Essay on Nobility".
He married for the third time at Watford 18th December 1727  Madam Bridget Massey, widow of William  Hale,  of  Bury,  she outlived him, and to her when he died at Bury St.Edmund's  on 31 July 1749, aged 65, he left all  his  property,  directing  that he should be buried at  Shelton  near  his  mother,  and there is a floor stone which reads: "Here lieth the  body  of  Maurice Shelton, Esq, late of Barningham Hall in Suffolk  the last male heir of the family,  died  3l  July  1749  aged  65years."
Maurice sold Barningham Park to the Duke of  Grafton,  though he retained Barningham Hall and Westhorpe.
His only child, Arabella Shelton,  married 21 February 1727-8 Thomas Taylor  of  Fakenham, Suffolk at Coney Weston Church.
Thomas was the son of Reynolds Taylor and  Rebecca,  daughter of Christopher Turner of  Wittlesey,  Eley,  Cambs,  and  was baptised August l690 at Fakenham. He  went  to  Bury  Grammer School under John Randall in 1707 and was  admitted  to Trinity College, Cambridge  in  August  1710  aged  19,  but  did  not  graduate. His father,  the Rev. Reynolds Taylor,  died  10  May  1692,  and has a large genealogical  monument  in  Fakenham Church. Reynolds father Thomas had bought  the  Fakenham  Estate  and  Thomas  succeeded  to  the  estate  on  the  death   of   his  grandfather in 1711.
In the 'Suffolk Mercury' of 1729  an  advertisement  appeared  that there was 'to be let at Michaelmas,  a  very  convenient dwelling-house called Fakenham Hall, now in the occupation of  Thomas Taylor Esq., with the  outhouses,  gardens,  orchards, meadow grounds, a new built brick dog kennel,  for  either  a  pack of beagles or spaniels, with a fine liberty of  hunting,  hawking, and shooting, above 20  miles  in fine  woods,  and  plenty of game, also a royalty of fishing, and a  very  large brick   barn, to be made into a coachhouse and stables,  and  a  very good dove-house  and  fish-ponds.  The  said  house  and premises are situated in very pleasant country  within  six  miles of Bury St.Edmund's, three  miles  from  Thetford,  and seven of Botesdale.   Inquire of  Mr.John  Youngs,  mercer,  at  Bury St.Edmund's". A little later on was advertised  "a  good pack of harriers to be disposed from  the  same  house",  and then "Fakenham Hall Farm, with a sheeps' walk for 500 ewes, at a yearly rent of £200".
Thomas Taylor sold Fakenham Hall to the Duke of  Grafton  and obtained Westhorpe, by a lease and  release  dated  20  &  21 November  1732  by  Maurice  Shelton  of  Barningham  and  by  Baptist  Lee of Great Livermore esq, as mortgagee to trustees  in favour of Thomas Taylor of  Great  Fakenham,  Norfolk and Arabella his wife, only child  of  Maurice  Shelton,  of  the  Manor of Westhorpe Hall, Westhorpe Hall, and Westhorpe Lodge.
Thomas and Arabella Taylor had two daughters,  both  baptised at Fakenham. Arabella  25 February  1728  and  Maria  Rebecca  February 27 1729. Arabella married William Garrood and died without issue 7 December 1760 and was buried at Belstead where there is a monument.  Thomas Taylor Esq was buried at Westhorpe Church  14  January 1737.
Arabella Taylor (nee  Shelton)  married  her  second  husband Baron Pretyman 16 September 1738. He was the  son  of  George Pretyman Junior who was baptised at Bacton 23 July 1685,  and married 9 August 1711 Jane daughter of the  Rev.John Pistor, Rector of Claydon, he rebuilt Bacton Manor,  erected  between 1727-29. Baron was born 24 February and baptised at  Bury  25 March 1712. His mother Jane, in her Will dated 11  June  1733  proved 20 October 1738  settled  everything  on  him  and  he married Arabella Taylor immediately after her death.
On the 6 August 1744 Baron Pretyman of  Bacton  and  Arabella his wife, late widow of Thomas Taylor, leased for  21  years, at an annual  rent  of  £162, Westhorpe  Lodge  Farm  to  Ann Grimwood of Westhorpe, widow.
Baron Petyman appears to have dissipated his family  fortune,  and after his death on the 15 February  1758,   the  manor  and estate of Cotton Briseworth was bequethed by him to a natural son John Jacob by his housekeeper Mrs.Sarah Jacob. John Jacob  was Lord of it in 1770 but in 1776 the  manor  was  purchased for £1,000 by Charles Maverley, before a Master in  Chancery,  in a suite Jacob versus Braham.  There  was  no  mention  of Arabella his wife in his Will,  and it  seems  likely  she  was then living with her daughter Arabella,  as she  died  and  was buried at St.Mary's  Belstead 30 March l76l and the following  monument is to be found on the wall to the left of the altar.
In Memory of Arabella Garroud
a sincere Christian
wife of Wm Garoud Junr LLB
and one of the daughters and
coheresses of Thomas Taylor Esq
and Arabella his wife
late of Westhorpe in this County
She died without issue
the 7th December 1760
aged 32 years
Arabella her Mother died 23rd March 1761
and lies interred in the Chancel
Life How Short!
Eternity How Long!
Maria Rebecca Taylor married lst, 13 April 1750, Richard  Dillon  at  Woolpit. (Woolpit was second only to Walsingham as a Catholic  Shrine). Richard Dillon of Dillon Grove in the County of Roscommon & Kingdom of Ireland, single man, and Maria Rebecca Taylor of St.Edmunds, Bury in the County of  Suffolk,  single     woman, were married at Tostock, however in a  transcript  for Woolpit it showed Maria Rebecca of Rattlesden. They  had  two  sons who  were  baptised  at  Langham  where  Richard  Dillon appears paying rates until 1752/3.   Gerald Taylor Dillon 2 May 1751 and Thomas Taylor Dillon l6 March 1751/2. Sadly they both died in June 1752 and were buried at Westhorpe  Jarrold Taylor 5th and Thomas Taylor 23rd. There is no mention of  the name Dillon in the catholic registers of St.Edmunds, Bury.
It seems likely that after the death  of  the  children,   Maria and Richard returned to Ireland where Richard Dillon died  and  his  Will was proved 3 December 1754. The original was destroyed in the 'troubles in l922' but the following was found in an abstract of Irish wills compiled by P Bery Eustace.
Dillon, Richard,  Dillonsgrove,  Co.Roscommon   Esq.  12 Dec.1752.  Codicil 4 Dec.1753. Narrate p.3 Dec. 1754.  Articles dated 12 April 1750 made on his inter-marriage  with  Maria Rebecca his wife. His wife Maria Rebecca Dillon.  Baron
Prettyman, Esq.[Her step father],   Arabella  Prettyman  her mother.  His brother Aylward John Dillon.  His  lands  of  Dillonsgrove,  Slevin,  Miltown  Dillon   and
Carrowgarry,  and  all  other  his  lands  and  tenements  in Co.Roscommon.
Witnesses:  John French, Joseph  Richardon, I.Hutson, all  of City of London, gents.
Codicil  witnessed  by:  Dominick  O'Connor,  Edwd. McDonnell, James Chapman. Le Chevr. D.O'Connor, then of  Paris,  France,  gent.  Memorial   witnessed   by:   Peter   Cruise,   Dublin   gent,  Thos.Dollard, Dublin, writing clerk.
Maria Rebecca Dillon  married  as  her  second  husband  John Reilly. Their marriage and the baptism of their  eldest son John Taylor have not been found.  The first reference found to them in Bury is on 11 April  1760,  when their  second  son  Thomas's  baptism  is  recorded  in   the register's of St. Edmunds Catholic Church.. In a  deed  dated  8  April  176l,  and  Enrolled  in Chancery 6 Mary 1761, John Reilly is shown of  the  Parish  of  St. George, Hanover Square, Middlesex, but late of Robinstown,  Meath, Ireland. He appears paying rates of  7s 6d in  Lancaster Court in the Conduit Street Ward of  St.  Georges  from  1757 until 1761 when the house was taken over by a  Robert  Riley. Neither the marriage or baptism  appear  in  the  records  of  St.Georges.
  From various surviving deeds  John  and  Maria Rebecca Reilly obviously moved from London to Westhorpe and then to Bury itself. Unfortunately the land tax and rate books  for  St.James,  Bury  only  show  the  owners  of  the properties until 1781. In High Town  John  Knock  was  paying rates on two houses and it is not until 1781 that John Reilly appears as the occupier of one of them.  He  is  shown  there until 1784 and then in 1786  he  moved  to  Guildhall  Street  which is in the parish of St.Mary.
  "An amount of all sums of money to be levied and paid  in  the Parish of St.James on male servants from 25/3/1779 - 5/3/1786"  John Reilly Esq had 1 footman named Jn  Holmes  for  whom  he paid £1.1.0 per year tax, and he appears in 1780  &  1782  in the parish of St.James paying £1.14.8: quarterly  8s.8d  Window Duty on 20 windows.   The area called High Town was almost totally  rebuilt  during  the early l800s and  has  since  undergone  various  changes, however it is possible to get a vague idea  where  the  house  was situated.
  John Reilly died in Dublin Ireland 2 November  1795  and  the following survives in Dublin :  Reilly  John,  late  of  Bury St.Edmunds, Co.Suffolk  but  now  of  Dublin  esq:  dated  29 October 1795: proved 6 April 1796 - daughter Maria Rebecca.
Maria Rebecca died 8 April 1810, at the age of  81,  and  was buried at  Westhorpe,   and  in  the  chapel  near  the  Barrow monument against the north wall near the west  end  there  is  the following on a small and neat mural.
Maria Rebecca Reilly
Relict of the late John Reilly Esq
and granddaughter of the late
Maurice Shelton Esq who departed
this life April 8th l8l0 aged 8l
<![if !vml]>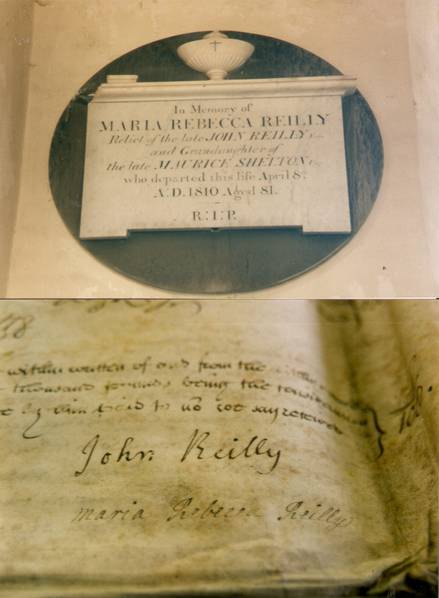 <![endif]>
     The deaths of John, Maria Rebecca and John Taylor Reilly in the Laity's Directory for 1813 (now called The Catholic Directory):  1795 October 6 John Reilly Esq aged 76. (Born c.1719). 1810 April 8 Mrs.Maria Rebecca Reilly relict of the late John Reilly Esq at Bury St. Edmunds Suffolk aged 81.  September 9 1811 John Taylor Reilly at Islington aged 54.
      In Feb 1812 the following probate administration was granted:  on the seventh  day  administration  of  the  goods chattels and credits  of  John  Taylor  Reilly  formerley of Westhorpe and Bury St.Edmunds in the County  of  Suffolk,   but late of Islington in the County of  Middlesex,  bachelor  decd, was granted to Thomas Reilly Esquire the natural  and  lawful brother and one of the next of kin of the  decd  having  been first sworn by common duty to admon.
     Thomas Reilly, lived at Bury St.Edmunds and in 1799 married Charlotte,  daughter of Christopher Steele.  They had three children Thomas jnr in 1800,  who married Margaret Caroline Furness in 1829,  Mary in  1803, who married Charles Ellis at Old Church, St Pancras in 1823, and John in 1805 who married Mary Skeggs in 1844.  From various deeds we know the family were in Preston, Lancashire between 1812 and 1817,  however,  Thomas was still shown as having land in an 1820 Bury Terrier.  He  appears listed as Lord of the Manor of Westhorpe from 1810 until 1821 when the Manor passed to Sir Miles Nightingale.  Thus the association with Suffolk appears to have ended.  Thomas  Reilly senior died at Thornton Heath in Surrey 6 December 1831 at the age of 72.  John Reilly and Mary his wife had a son Nicholas Shelton O'Reilly in 1850 – he was my father's grandfather.
<![if !vml]>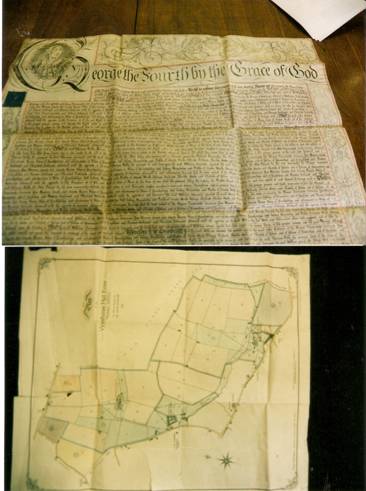 <![endif]>
A Deed and Plan of the Manor of  Westhorpe, Suffolk.
December 2013
Copyright Sarah Tanner 2014